---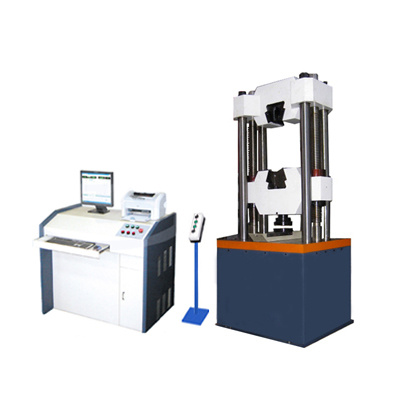 1. Main functions & features:
1) Using microcomputer controlled high precision electro-hydraulic servo valve to drive precise hydraulic cylinder and can realize constant speed control to test force, displacement, deformation, etc. and so that to make tensile, compression, bending tests. If equipped with accessories, it can comply with other test requirements for various materials;
2) Adopting underneath type hydraulic cylinder, which is installed at the bottom of the main machine, running stably; upper and lower jaw base are open structure, easy to clamp specimen;
3) Independent hydraulic servo loading system, using high precision broadband electro-hydraulic servo valve to ensure system high precision, high efficiency, low noise, quick response; using independent hydraulic clamping system to ensure system run stably and low noise, and no-slipping of specimen during test.
Microcomputer control and processing system:
l Servo control system: complete test parameters setting, test procedure autocontrol, data acquisition, processing, analysis, storage and display (test data including: upper and lower yield points, tensile strength, break strength, elastic modulus, elongation, proof strength of non-proportional elongation, etc.). It can realize closed-loop control of test force, deformation, displacement and constant speed control to test force, strain, displacement, deformation;
l Displaying test force, peak, deformation, piston displacement, test curve on screen, with intelligent system of full keyboard input and control mode, which can realize arbitrary setting and smooth shift between control modes;
l Complete data acquisition and processing (with many test methods, standards). With functions of simulation and reproduction of test procedure, re-analysis of test data, amplication, comparison, traverse, zoom in or out of test curves;
l Using modularization, open programming, human design, users can freely adjust test standards, test reports, test parameters to meet with their different requirements, easy to upgrade and manage rights;
l Using database to manage test data;
l With expansion and updating capacity.
4) protection functions:
l limit position protection for oil cylinder;
l overcurrent protection for hydraulic system;
l overload protection;
l overcurrent, overvoltage protection;
l safe protection at the time of specimen break;
l automatica protection after test.
2. Main technical parameters:
| | | |
| --- | --- | --- |
| No. | Items | Parameter |
| 1 | Max. test force (KN) | 1000 |
| 2 | Relative error of indicating value of test force | ≤±1% of indicating value |
| 3 | Measuring range of test force | 2%-100%FS |
| 4 | Control range of constant speed stress (N/mm2.S-1) | 2-60 |
| 5 | Error of stress rate | ≤±5% |
| 6 | Control range of constant speed strain | 0.00025/s-0.0025/s |
| 7 | Error of strain rate | ≤±5% |
| 8 | Control range of constant speed displacement(mm/min) | 0.5-50 |
| 9 | Relative error of displacement speed | ≤±5% |
| 10 | Loading rate | real-time display on computer screen |
| 11 | Max. moving speed of piston (mm/min) | About 70 |
| 12 | Max. moving speed of cross head (mm/min) | About 200 |
| 13 | Tensile space (mm) | 700mm, can be heightened to 1000mm |
| 14 | Compression space (mm) | 500 |
| 15 | | Ф13-Ф40 |
| 16 | Clamping thickness range of flat specimen (mm) | 0-30 |
| 17 | Clamping width of specimen (mm) | 70 |
| 18 | Motor power (KW) | About 2.2 |
| 19 | Dimension of upper and lower platen (mm) | Ф160 |
| 20 | Clamping mode | Hydraulically clamping |
| 21 | Dimension of main machine (mm) | 890*670*2150 |
| 22 | Dimesnion of servo control cabinet (mm) | 1200*800*1100 |
| 23 | Power supply | 380V±50Hz |