---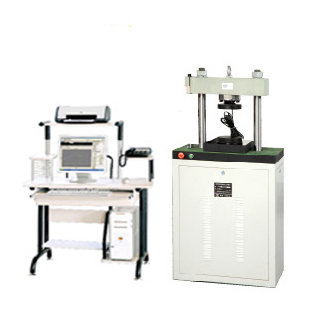 YAW-300D
Microcomputer Full Automatic Cement Compression Testing Machine
Ⅰ. Function introduction:
This machine is manufactured according to GB/T17671-1999 Test Method for Cement Mortar Strength, GB10238-2005 Oil Well Cement, using microcomputer control, with control modes of constant speed test force, constant speed stress, test force hold, etc. Using computer to realize such functions as screen display test data and test curve, data storage, database management. Connected with printer, it can output test report. It has characteristics of hpgh precision, excellent property, high reliability, easy to operate, etc.
Equipped with accessories, it can make compression tests for other materials.
This machine adopts AC servo system to drive AC servo motor, and precise speed reducer to drive ball screw, which can ensure the machine high precision, low noise, run smoothly.
This machine adopt computer control to display test force, load peak and other information, with simple and attractive interface.
Using double-column frame structure, its upper platen is installed on upper beam and the lower platen goes up to load driven by precise ball screw. Its AC servo control and driven system are installed under the main machine. Using AC servo speed regulation system to drive precise ball screw to make tests and can realize test speed adjustment in a large range, Test process is smooth and efficient.
Using computer system to independently complete test parameters setting, test process control, data acquisition, processing, analysis and display. It can make both single test and group of tests. Its control and measurement are precise, quick, convenient, reliable.
Using computer system to make statistical processing to test data, print different test curves and reports, also can realize storage and networking interconnection.
With function of auto return to the original position after test, efficient, quick.
With functions of limit position protection, overvoltage protection, overcurrent protection, reliable, safe.
Equipped with brand computer and printer to ensure high efficient.
Using fully mechanical structure, completely closed from servo motor to servo speed reducer. There is no need to change lubricant during its use, avoiding oil leak, no proportional valve clogging, which is good to keep lab clean.
Using 220V power supply directly, avoiding complex procedure to connect 380V power line.
Ⅱ. Main technical specifications:
| | | |
| --- | --- | --- |
| No. | Item Name | Technical spec. |
| 1 | Max. compression test force | 300KN |
| 2 | Max. bending test force | 10KN |
| 3 | accuracy | ±1%, class 1 |
| 4 | measuring range of compression test force | 6-300KN |
| 5 | Measuring range of bending test force | 1-10KN |
| 6 | Min. test force | 0.01KN |
| 7 | loading speed | 0-4.8KN/s (can be set freely) |
| 8 | control range of test speed | 0.1-40mm/min |
| 9 | compression test space (height) | 0-200mm |
| 10 | Bending test space (height) | 0-100mm |
| 11 | screw stroke | 100mm |
| 12 | power supply | AC 220V±10%, 50Hz |
| 13 | power | 1KW |
| 14 | dimension | 630*400*1530mm |
| 15 | weight | 370kg |
Ⅲ. Basic configuration:
Category

No.

Name

Spec.

Qty.

product

1

Main machine

Precision ball screw loading

1 set

2

Load sensor

300KN

1pc.

3

Load sensor

10KN

1pc.

Accessories &tools

1

Compression platen

Ф200x30mm

1set

2

Power cord

1pc.

3

Data wire

2pcs.

4

Measurement and control system

1set

5

Lenovo computer

1G/160G/17 Liquid crystal

1set

6

printer

A4/HP 2668

1set

7

Particle plate

1pc.

8

Attachment tools

1set

9

Attachment materials

1set