---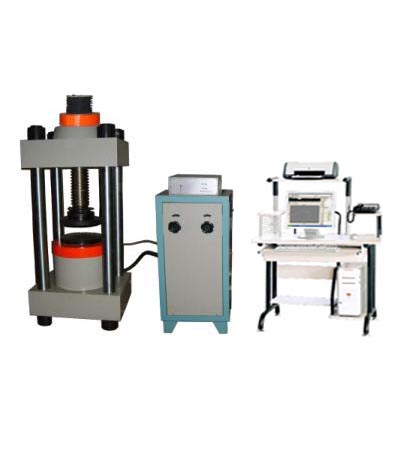 YAW-2000B
Computer Controlled Electrohydraulic Servo Compression Testing Machine
Ⅰ Main function&characteristics
1. Using computer controlled high precision electrohydraulic servo valve to control test force and displacement, and make compression test, in line with national standard GB/T50081-2002 Test Method of Mechnical Property for Common Concrete.
2. Its main machine adopts four-column structure, underneath type oil cylinder, which is easy for operators to install and uninstall samples, with good stability.
3. Its loading system adopts hydraulic servo valve to ensure system high accuracy, high efficiency, low noise and quick response.
4. Using computer control display system to finish such operations as test parameters setting, control, data acquisition, processing, analysis, storage and display, accurate control and measurement.
5. Equipped with special software for testing machine, it can make statistics and processing to test data and then printout various test curves and test reports. It has functions of curve enlargement, comparison and traverse, intelligent, convenient.
6. Self-building strong test database, which can be saved, queried and called any time and can realize transmission and transformation.
7. Convenient manual open-loop control function, auto-manual, easy to operate, quick, efficient.
8. Fully automatic control test force and stroke speed to realize compression test for concrete and other materials.
Ⅱ.

Main technical specifications:
1、max. test force: 2000KN
2、Precision of test force:≤±1%
3、compression space: 0-320 mm electrically adjusting space
4、space between two columns: 360*360mm
5、Size of upper and lower platens :300*300mm
6、Piston stroke:150mm
7、Loading speed:0~40KN/s or can be adjusted
8、Overload protection function: the machine can automatically stop when test force exceeds 2% of the max value.
9、Power: 2.2KW
10、Working voltage:380V/220V
11. dimension of main machine (L*W*H) : 1200x500x1300mm
12. Weight:1000Kg
Ⅲ

. Standard configuration:
1. 2000kN main machine one set
2. high precision load sensor (precision 0.05%) one set
3. servo system (hydraulic source) one set
4. compression platen one set
5. special software for computer control and data processing one set
6. Lenove computer/ Qitian M4300/1G/160G one set
7. HP2568/A4 ink-jet printer one set