---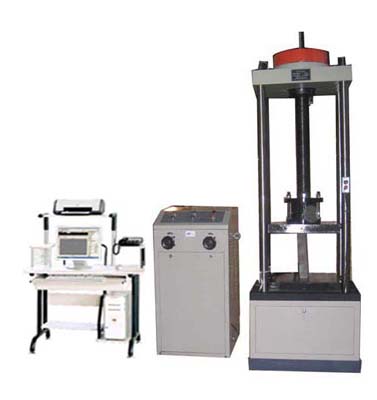 YEW-600
Computer Screen Display Compression Testing Machine
1. Functions & characteristics:
It is mainly used to make compression test for large construction member and common concrete according to national standard GB/T50081-2002 Test Method of Mechanical Property for Common Concrete and JJG139-1999 Tension, Compression and Universal Testing Machine.
It adopts hydraulic loading, electronics measure force, screen display test force, load peak and test speed in real time. It has characteristics of quick adjustment to test space, compact structure, good stability, easy to operate. And it is an ideal testing equipment for building, highway and colleges.
Ⅱ. Main technical specifications:
No.

Items

Technical specification

1

Max. test force(KN)

600

1000

2

Measuring range (KN)

12-600

20-1000

3

Accuracy of indicating value

≤±1%

4

Max. compression space (mm)

1000 (or can be made as required)

5

Dimension of upper and lower platens (mm)

500*500mm (or can be made as required)

6

Max. stroke of pistion(mm)

150

7

Load speed

0-40KN/s, adjustable

8

Control and display mode

manual control, screen display test force, loading speed in real time; auto processing test result