---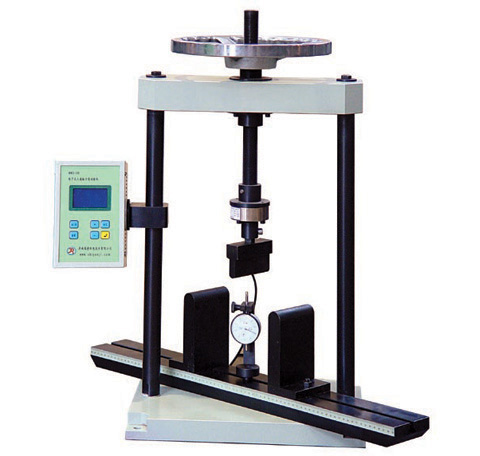 WDW-10B
Electronic Wood-based Panel Universal Testing Machine
Ⅰ . Main function& features:
This machine is developed to test various mechanical property for wood-based panels and decorative wood-based panels, satisfying GB17657-1999 Test Method of Mechanical Property for Wood-based Panel and Decorative Wood-based Panel. It can perform such tests as surface bond strength, bending strength, elastic modulus, screw holding capability, internal bonding strength etc. and it is an ideal testing equipment for wood-based panels manufacturers and quality supervision departments.
Its characteristics are as follows.
1) using double columns structure, small and nice appearance.
2) Using handwheel rotational loading mode, fast and convenient.
3) Its display system can display test force and load peak in the real time.
Ⅱ.Main technical specifications:
①Max. test force:10000N
②accuracy of test force : better than ±1%
③Resolution of test force:1N
④effective width of test space: 400mm
⑤Protection function: auto stop when exceeding max. test force 2%-5%
⑥structure of main machine: bench frame
⑦power: single phase 220v;0.25KW
⑧dimension of main machine (L*W*H): 500*300*800mm
Ⅲ.Basic configuration:
1.main machine(10000N) one set
2. control display system one set
3. High precision load sensor (10Kn) one set
4. Accessories:
4.1 surface bond strength accessory
4.2 internal bond strength accessory
4.3 surface bond strength
4.4 bending strength accessory
4.5 elastic modulus device
4.6 screw holding capability accessory