---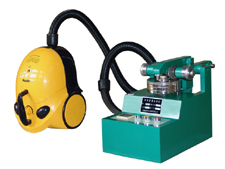 MGL-5N Rolling Wear Testing Machine
1.Brief introduction:
This machine completely satisfies GB/T7657-1999 standard requirements and can be applicable to test wear property of surfce decoration for wood-based panels and decorative wood-based panels and to get the revolutions when these materials are worn to some extent.
2.Technical specifications:
2.1 max. test force: 5N; accuracy: ±0.2N;
2.2 rotation speed of sample: 60r/min; accuracy:±2r/min;
2.3 max. size of sample: block sample with 110mm±2mm or diam. φ120 mm±2mm;
2.4 sample no.: 2 pcs;
2.5 max. power: 1085W;
2.6 dimension: 240*350*300 (mm).
Structural feathers: it has two independent working tables and can make two tests synchronously. It can make wearing test of two samples for the same kind of plate. Also you can use one of working tables to make test and can make another test during test process without interference between them.
The scraps can be collected by two cleaners which makes test results more accurate.