---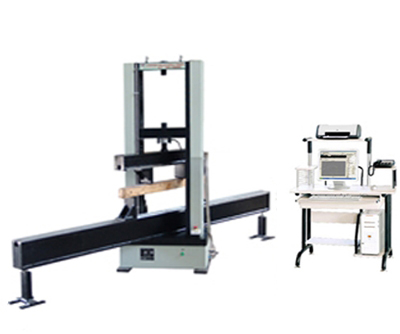 MWW-100
Microcomputer Controlled Wood-based Panel Testing Machine
(with Large Span)
Ⅰ. Main function &characteristics:
This machine is developed for long wood-based panel and decorative wood-based panels, satisfying GB17657-1999 Test Method of Mechanical Property for Wood-based Panel and Decorative Wood-based Panel. It can perform such tests as surface bond strength, bending strength, elastic modulus, screw holding capability, internal bonding strength etc. and it is an ideal testing equipment for wood-based panels manufacturers and quality supervision departments. Its characteristics are as follows:
①Using portal frame structure, attractive appearance.
②Using imported AC servo speed regulation system,speed reducer made in German to drive precision ball screw assembly to make tests and to receive test speed adjustment in a large range and test process is smooth and efficient.
③Equipped with proper accessories, it can makes tests of tension, compression, bending, flexture, peeling for wood-based panels, plastic-aluminum board, aluminum materials, paper, PVC, tubes and pipes.
④Uing computer control system to display test force, load peak, test speed and displacement in the real time, easy to operate.
⑤Connected outside with printer to output test report in different form, and also it can be edited according to your requirements.
⑥It can achieve a rapid adjustment to the beam during clamping samples, which is flexible and can be swithced freely.
⑦ It has function of auto returning to the initial position after test, efficient, quick.
⑧It has functions of limit position protection at any working position and overload protection, reliable and safe.
Ⅱ. Technical parameters:
| | | |
| --- | --- | --- |
| No. | Test items | MWW-100 |
| 1 | Max.test force | 100KN |
| 2 | Load resolution | 1/250000 |
| 3 | min.reading of deformation | 0.01mm |
| 4 | relative error of indicating value | In the range 1%--100%; ±1% |
| 5 | relative error of repeatability in the load indicating value | ≤1% |
| 6 | Relative error of load zero point | ±0.1% |
| 7 | Speed range | 0.05---500mm/min |
| 8 | Test space (H*W) | 600x400mm |
| 9 | Loading mode | electically |
| 10 | Control mode | Computer controlled |
| 11 | power supply (firmly grounded) | ~220V±10% 50Hz;1.50KW |
| 12 | Dimension of main machine(mm) | 800×600×1750mm |
| 13 | weight | 600kg |
Ⅲ. Standard configuration:
Name

Content

Qty.

Main machine

Portal frame structure; shell sprayed with plastics

precise ball screw assembly

1set

2sets

drive device

imported AC servo speed regulationl system,speed reducer made in German, synchronous belt drive

1set

load sensor

100KN hub and spoke model

1pc

Limit position device

Combining screen printing technology with photoelectric technology; photoelectric limit switch

3pcs

tensile accessories

1. surface bonding strength accessories

2.Internal bond strength accessories

3.Surface bonding strength accessory

4. shearing strength accessory

5. bending strength: upper pressure head,bending workingtable(0-600mm), bearing

6.elastic modulus device

7.screw holding capability accessory

8.adjustment device of large span(0-2500mm)

9.bending support and diameter (300*48.33mm)

10.adjusting range of upper bending span (0-300mm)

1set

Compressed platen

¢100mm

1 set

computer

Lenovo 1G/160G/17 LCD

1 set

Printer

Ink-jet A4/HP 2568

1 set

Operation manual

1 pc

Packing list

1 pc

certificate

1 pc

special software CD

1 pc