---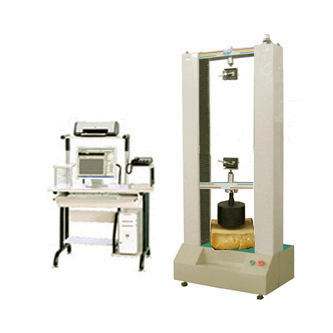 WDW-5/10
Sponge Seat Cushion for Automoblile and Motorcycle Testing Machine
Ⅰ.Main function & scope:
This machine is mainly applicable to test tensile, compression, bending and other mechanical property indexes for metallic, nonmetalic and composite materials. Its precise auto control and data acquisition systems realize full digtalization adjustment to data acquisition and control procedure. In tensile test, it can test max.bearing tension, tensile strength, extension deformation, elogation etc, which all can be calculated after test through main controller according to the original test parameters set before test and display test curves and results. All parameters can be inquired and printed.
The manufacturing and verifacation standards:
GB/T16491-2008 Electronic Universal Testing Machine
JJG139-1999 Metrological Verification Regulation for Tensile, Compression and Universal Testing Machine
1.It has remote control box through which users can adjust crossbeam speed, operating flexibly, switching randomly.
2.After test, it can automatically return to the original position, intellegent efficient, quick.
3.It has limit position protection function,overcurrent protection functions, reliable and safe.
4.It has strong test database and test data can be saved, inquired and recalled anytime.
5. It can realize constant speed control to load, stress, deformation, strain, stroke, load, extension, displacement, low-cycle control and self-programming control.
6.It can realize switch among many test curves: stress-strain, load-deformation, load-displacement, load-time, deformation-time, displacement-time, load-strain. It has functions of partial enlargement, superposition and comparasion for test curves.
Ⅱ. Manufacturing standards
1) GB/T2611-2007 General Technology Requirements of Testing Machine
2) GB/T10807-2006 Hardness Determination (Force and Sag Method) for Flexible Foam Polymerization Materials
3) GB/T16491-2008 Electronic Universal Testing Machine
4) JJF1103-2003 Evaluation of Computer Data Acquisition System for Universal Testing Machine
5) JJG139-1999 Verification Regulation for Tensile, Compression and Universal Testing Machine
6) GB/T1040.1-2006 Plastic Tensile Property Determination Part One: Test Method Principle
Ⅲ. Main technical specification:
1. Max. test force: 5KN/10KN
2. resolution of test force: 0.01N
3.min. reading of deformation: 0.01mm
4. relative error of indicating value: with measuring range 2%-100%, ±1%
5. repeatibility of relative error of indicationg value: ≤1%
6. relative error of zero point of load: ±0.1%
7. speed range: 0.05-500mm/min
8. test space (H*W): 800*400mm
9. loading method: electrically loading
10. power supply (should be firmly grounded): ~220V±10%, 50Hz
11. dimension of main machine: 650*500*1650mm
12. weight: 150kg
Ⅳ. Basic configuration:
| | | |
| --- | --- | --- |
| 1 | Door structure main machine | 1 set |
| 2 | Sensor | 1 set |
| 1 | tensile grip(W*H) 60x50mm | 1 set |
| 2 | upper pressure head: ф200x100mm | 1 piece |
| 3 | lower platen: 390x390mm | 1 pc |
| 4 | upper platen: ф100mm | 1 pc |
| 5 | Data acquisition Card STC300 | 1 pc |
| 6 | Lenovo Microcomputer: 1G/160G/17 LCD | 1 set |
| 7 | Color ink-jet printer HP2668 | 1 set |
| 8 | Photoelectric switch | 1 set |
| 9 | Inner hexagon spanner | 1 pc |
| 10 | 150mm adjustable spanner | 1 pc |
| 11 | adjusting screw | 4 pcs |