---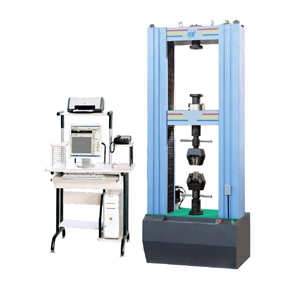 WDW-200
Microcomputer Controlled Electronic Universal Testing Machine
1.Main function & scope:
This machine is mainly applicable to test tensile, compression, bending and other mechanical property indexes for metallic, nonmetalic and composite materials. Its precise auto control and data acquisition systems realize full digtalization adjustment to data acquisition and control procedure. In tensile test, it can test max.bearing tension, tensile strength, extension deformation, elogation etc, which all can be calculated after test through computer and display test curves and results. If it is connected with printer, it can print test reports.
Manufacturing and verifacation standards:
GB/T16491-2008 Electronic Universal Testing Machine
JJG139-1999 Metrological Verification Regulation for Tensile, Compression and Universal Testing Machine
1.It has remote control box through which users can adjust crossbeam speed, operating flexibly, switching randomly.
2.After test, it can automatically return to the original position, intellegent efficient, quick.
3.It has limit position protection function,overcurrent protection functions, reliable and safe.
4.It has strong test database and test data can be saved, inquired and recalled anytime.
5. It can realize constant speed control to load, stress, deformation, strain, stroke, load, extension, displacement, low-cycle control and self-programming control.
6.It can realize switch among many test curves: stress-strain, load-deformation, load-displacement, load-time, deformation-time, displacement-time, load-strain. It has functions of partial enlargement, superposition and comparasion for test curves.
7. The main machine adopts door structure.The servo motor and reducer are installed under the main machine. It has two test spaces: the compression and bending test space is formed by middle beam and upper beam; the tensile space is formed by middle beam and workbench. The servo motor is driven by belt wheel speed reducer to drive precision ball leading screw assembly to rotate and then to make the middle beam move up and down and completes loading to the sample. And the test speed can be controlled by speed regulating system installed under the main machine.
8.The electric part is made of speed control system and display and measuring system.The machine adopts servo motor and speed control system through which users can control the rotating direction and precision of AC motor. The loading measuring system is made of high precision load sensor, measuring amplifier and A/D converter.The photoelectric encoder can measure the displacement.The computer can realize loading control, test data acquisition and display, data processing, characteristic curve planting. All control parameters and test results can be displayed on the screen in the real time and it has the overload protection function.
Manufacturing standards
1) GB/T2611-2007 General Technology Requirements of Testing Machine
2) GB/T228-2002 Tensile Testing Method for Metallic Materials at Room Temperature
3) GB/T16491-2008 Electronic Universal Testing Machine
4) JJF1103-2003 Evaluation of Computer Data Acquisition System for Universal Testing Machine
5) GB/T16825-1997 Verification of Tensile Testing Machine
6) JJG139-1999 Verification Regulation for Tensile, Compression and Universal Testing Machine
The machine is applicable to metal, cementing compound, tubes, sectional bars, aerospace, petrochemical, waterproof rolls, wires and cables, textile, fiber, rubber, ceramics, food, medical packaging, geotextile, film, wood, paper and other industries and quality supervision department, and it also can be used in college for teaching demonstration.
2. Main technical specifications:
| | | |
| --- | --- | --- |
| No. | Test Item | Technical Requirement |
| 1 | Max. test force | 200kN |
| 2 | Resolution of test force | 1/200000 |
| 3 | Min. reading value of deformation | 0.001mm |
| 4 | Relative error of indicating value | Within 1%--100% of the span, ±1% |
| 5 | Repeatibility of relative error of indicating value | ≤1% |
| 6 | Relative error of zero point | ±0.1% |
| 7 | Speed range | 0.003---300mm/min |
| 8 | adjustable range of load control speed | 0.005~5%FS/s; |
| 9 | control precision of load control speed | when speed is less than 0.05%FS/s, the precision is within ±2% of the set value; when speed is more than 0.05%FS/s, the precision is within ±0.5% of the set value |
| 10 | adjustable range of deformation speed | 0.005~5%FS/s; |
| 11 | control precision of deformation speed | when speed is less than 0.05%FS/s,the precision is within ±2% of the set value; when speed is more than 0.05%FS/s,the precision is within ±0.5% of the set value |
| 12 | adjustable range of displacement speed | 0.001~500mm/min; |
| 13 | control precision of displacement speed | when speed is less than 0.5%mm/min,the precision is within ±1% of the set value; when the speed is more than 0.5%mm/min, the pre cision is within ±0.2% of the set value |
| 14 | Max. moving distance of the beam | 1120mm |
| 15 | Test space (H*W) | 600x570mm |
| 16 | Effective Compresstion Space | 970mm |
| 17 | Loading mode | Electrically loading |
| 18 | Power supply (should be firmly grounded) | ~380V±10% 50Hz |
| 19 | Power | 2KW |
| 20 | Dimension of main machine | 1050x750x2600 mm |
| 21 | Weight | 2700kg |