---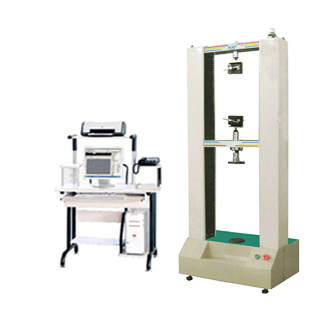 WDW-10 Microcomputer Controlled Electronic Universal Testing Machine
1.Main function & application:
WDW-10 microcomputer controlled electronic universal testing machine is mainly applicable to test tension, compression, bending and other mechanical property indexes for metallic, nonmetallic, composite materials. Its precise auto control and data acquisition system realizes full digitalization adjustment to data acquisition and control procedure. For tensile test, it can test max. bearing tension, tensile strength, extension strain, elogation and other technical indexes, which all can be calculated after test through computer and display test curves and results. If it is connected with printer, it can print test reports.
1.It has remote control box through which can adjust crossbeam moving, operating flexibly, switching randomly.
2.After test, it can automatically return to the original position, intelligent, efficient, quick.
3.It has limit position protection function, overcurrent protection function, reliable, safe.
4.It has strong test database and can save, inquire and recall test data.
5.It can realize constant speed control to speed, stress, deformation, strain, stroke, load, extension, displacement, low-cycle control and self-programming control.
6.It can realize switch among many test curves: stress-strain, load-deformation, load-displacement, load-time, deformation-time, displacement-time, load-strain. It has functions of test curve partial enlargement, superposition and comparasion.
This machine is applicable to metal, cementing compound, tubes, sectional bars, aerospace, petrochemical, waterproof rolls, wire and cable, textile, fiber, rubber, ceramics, food, mechical packaging, geotextile, film, wood, paper and other industries and quality supervision department, and it also can be used in college for teaching demonstration.
Application range: JG149-2003, JG158-2004, GB/T5386.2-2001, GB/T7689.5-2001, GB8813-1998, GB/T17671-1999, GB/T9641, JG/T24-2000, JC/T547-2005, GB/T16777-1997( users should provide the compression grips themselves), JG/T157-2004, GB/T8813-88 Test Method of Compression Property for Outer Wall Heat Insulating Material; JGJ144 Technical Criterion for Outer Wall Heat Insulating Engineering.
Manufacturing standards
1) GB/T2611-2007 General Technology Requirements of Testing Machine
2) GB/T228-2002 Tensile Testing Method for Metallic Materials at Room Temperature
3) GB/T16491-2008 Electronic Universal Testing Machine
4) JJF1103-2003 Evaluation of Computer Data Acquisition System for Universal Testing Machine
5) GB/T16825-1997 Verification of Tensile Testing Machine
6) GB/T7314-2005 Compression Test Method for Metallic Material at Room Temperature
7) GB/T14452-1993 Test Method of Bending Mechanical Property for Metallic Materials
8) JJG139-1999 Verification Regulation for Tensile, Compression and Universal Testing Machine
2.Technical specifications:
| | | |
| --- | --- | --- |
| No. | Test Item | Technical Requirement |
| 1 | Max. test force | 10KN |
| 2 | Resolution of test force | 1/200000 |
| 3 | Min. reading value of deformation | 0.01mm |
| 4 | Relative error of indicating value | In measuring range 1%-100%; ±1% |
| 5 | Repeatibility of load relative error of indicating value | ≤1% |
| 6 | Relative error of zero point | ±0.1% |
| 7 | Speed range | 0.005-500mm/min |
| 8 | Test space (H*W) | 800*400mm |
| 9 | Loading Mode | Electrically loading |
| 10 | Power supply (should be firmly grounded) | 220V±10%, 50Hz |
| 11 | Dimension of main machine | 660*415*1500mm |
| 12 | Weight | 200kg |
3.Basic configuration:
Name

Item

Remarks

Main machine

portal frame; shell is sprayed with plastics

Precise ball screw assembly

1 set

2 sets

Controller

Computer screen display

1 set

Drive system

Taiwan Dongyuan AC servo motor and driver

German Bomet speed reducer

Synchronous belt drive

1 set

1 set

1 set

Sensor

10KN hub and spoke

1 pc.

Photoelectric encoder

1 pc

Limit position device

An integration of screen printing technique and photoelectric technique

3 pcs

Tensile accessories

Round jaw: Φ4-9mm Flat jaw: 0-7mm

Other type: Φ9-14mm; Φ7-14mm optional/additional charge

1 set/each

Compression platens

Φ100mm

1 set

Bending accessory

Span: 10-300mm; pressure head: Φ10mm; optional/additional charge

1 set

Electronic extensometer

YYU-10/50 gauge length:50mm;

Deformation value: 10mm

Beijing Steel Institute optional/additional charge

1 pc

Computer

Lenovo 1G/160G/17 LCD

1 set

Printer

HP 2668 color ink-jet optional/additional charge

1 set

Software

Special software for electronic universal testing machine

1 set