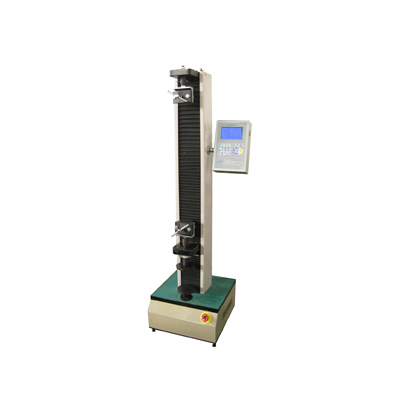 LDS-1/2/5
Electronic Tensile Testing Machine
Ⅰ.Performance & characteristics:
The testing machine satisfies: GB/T16491-2008 Eelectronic Universal Testing Machine and JJG139-1999 Verification Regulation for Electronic Universal Testing Machine. It also satisfies the standards as GB,ISO,ASTM,JIS,etc.
The machine adopts cantilever type structure. Loading speed is 0.2-500mm/min, stepless variable speed. Users can freely set the loading speed; Using stepping motor to drive, precise ball screw loading, photoelectric encoder to test tensile distance of sample, with characteristics of loading evenly, stable, without impact, accurate measurement.
It adopts microcomputer auto control and data collecting system to realize full digital adjustment to data collection and control process. In the tensile test, it can detect the max. bearing tension, tensile strength, extension deformation, elogation etc. All testing parameters can be automatically calculated according to the original parameters through microcomputer controller and meantime can display test results. Also these parameters both can be inquired and printed.
It is mainly used to test tension, compression, bending and other mechanical property for metal, non-metal and composite materials. It is applicable to metal, cementing compound, tubes and pipes, sectional bar, aerospace, petrochemical industry,l waterproof rolls, wires and cables, fiber, rubber, ceramics, food, medical package, geotextile, film, wood, paper and other manufacturing industries and quality supervision department. It is also used in colleges for teaching demonstration.
Ⅱ.Main technical specifications:
Spec. & type

LDS-1

LDS-2

LDS-5

Max. testing force(N)

1000

2000

5000

Effective measuring range

2%-100%FS

Accuracy of indicating value

±1%

Max. tensile distance (mm)

800mm or can be made as required

Max. distance between platens(mm)

800mm or can be made as required

Size of upper and lower platens(mm)

Ø100

Tensile accessories

Wire winding grip, wafer type grip, level type grip, microprinter is optional (with standard accessory 1set)

Main machine (mm)

500*400*1600

500*400*1600

500*400*1600