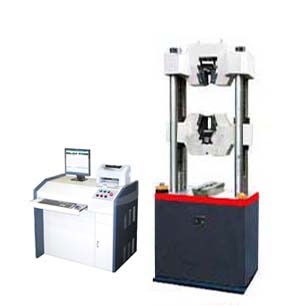 WAW Series
Microcomputer Control Electro-hydraulic
Servo Universal Testing Machine
Ⅰ. Main function &features:
1.This series machine adopt microcomputer control full digital broadband electro-hydraulic servo valve to drive high precision hydraulic cylinder, auto control to test force, displacement, deformation, and finish tension, compression, bending test. This series machine comply with national standard GB/T228-2002 Method of Tensile Test of Metallic Materials At Room Temperature and GB/T3159-92 Hydraulic Universal Testing Machine. If equipped with accessories, can perform mechanical property test for high strength bolt, chain, steel wire and other materials.
2.The main machine adopts underneath hydraulic cylinder; the power to adjust test space and transmission devices are installed at the bottom of the main machine, running stably; upper and lower jaw base are open structure, easy to clamp specimen.
3.Independent hydraulic servo loading system, using high precision broadband electro-hydraulic servo valve to ensure system high precision, high efficiency, low noise, quick response; using independent hydraulic clamping system to ensure system run stably and low noise, and no-slipping of specimen during test.
4.Computer control, completely realizing three closed-loop control to test force, displacement, strain, test procedure control, data acquisition, processing, analysis (test data including: elastic modulusE, tensile strength Rm, upper yield point ReH, ReL etc.), accurate, reliable.
Ⅱ.Main specifications:
Spec.

WAW-300B

WAW-600B

WAW-1000B

Max. test force(kN)

300

600

1000

Effective measuring range(kN)

6-300

12-600

20-1000

Indicating value precision (better than indicating value)

±1%

±1%

±1%

Max.distance between tensile jaws(mm)

600

650

650

Max. distance between upper and lower platens(mm)

450

450

500

Size of upper and lower platen(mm)

Φ160

Φ160

Φ160

Clamping range of round specimen(mm)

Φ6-13;

Φ13-26

Φ13-26;

Φ26-40

Φ13-26;

Φ26-40

Clamping range of flat specimen(mm)

0-15

0-15; 15-30

0-15; 15-30

Max. width of flat specimen(mm)

70

70

70

Main machine dimension (mm)

740*550*2000

740*550*2100

840*580*2200

Control dimension(mm)

2000*500*1000

2000*500*1000

2000*500*1000