---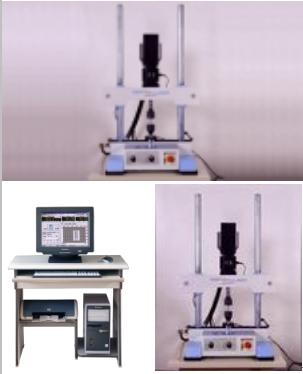 WAW-5
Microcomputer Control Electro-hydraulic Servo Mortar Fatigue Testing Machine
Ⅰ.Function:
This series machine are our latest products, and used in highway CA mortar fatigue test (comply with railway engineering test standard). If equipped with accessories, they can be used to perform static mechanical performance tests such as tension, compression etc. and low-cycle dynamic performance test.(CA motor: mixed by cement, emulsified asphalt, sand and some admixture)
Loading frame: utilizing double columns rigid portal frame structure, shell cover sprayed with plastics, nice appearance. Actuactor is installed on upper beam, with underneath type test space, compact structure,easy to operate.
Measurement and control system: using high integration AD800PCI interface three closed-loops full digital control card, with characteristics of high precision, high speed, high sampling frequency, high resolution, to drive high precision electro-hydraulic servo valve, and realizing constant speed three closed-loop control to test force, displacement, deformation. High precision sensor, data acquisition and processing by computer, output test results, curve report through printer, high precision control, reliability.
Ⅱ. Main specifications:
1.max. static test force: ±5kN, indicating value precision: 20% of each range, ±1%
2.max. dynamic test force: ±5kN, amplitude fluctuation less than ±1%FS of each range
3.max. amplitude of actuator: ±50mm, indicating value precision 20%, ±0.5%FS.
4.frequency range: 0.001-10Hz.
5.control mode: displacement control, force control and strain control.
6.test waveform: sine wave, square wave, triangle wave, ramp wave, intermitten wave.
7.main machine: double columns.
8.distance between two columns: 300mm.
9.max. test space: 400mm.
10.power supply: three-phase four-wire 380V±50Hz; 2.0kW
11.loading frame dimension (L*W*H): 550*450*1200mm.
12.weight: about 240kg.