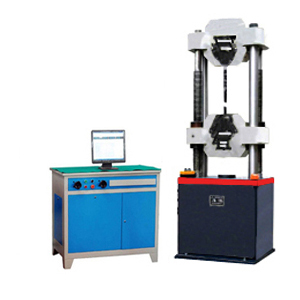 WEW Series
Electro-hydraulic (Microcomputer Screen Display) Universal Testing Machine
Ⅰ.Functions & features:
1. This series machine adopt manual control to oil inlet and outlet valve, hydraulic loading, and electronic measurement, auto processing data, and mainly used to perform tension, compression and bending tests for metallic and nonmetallic materials. It completely accords with national standard GB/T16826-1997 Electro-hydraulic Servo Universal Testing Machine and GB/T228-2002 Method for Tensile Test of Metallic Materials at Room Temperature. Also complies with standard ISO, ASTM, JIS about materials requirements. It can get upper yield force, lower yield force, non-proportional extension strength, total extension strength, tension strength, elasticity modulus, extension under maximum force and other mechanical performance for different materials. If equipped with accessories, it can perform mechanical performance tests for high strength bolt, chain, steel wire etc.
2. Utilizing the transmission mechanism of double leading screws and middle beam, underneath type hydraulic cylinder, open jaw base, easy to install specimen, with high stability and nice appearance.
3.Utilizing computer to perform such operations as setting parameters, test data and curve acquisition, processing, analysis, storage and display(data including: elasticity modulus E, tensile strength Rm, upper and lower yield point ReH, ReL ect.)
4.With special Windows software for computer screen display testing machine, and measure performance parameter for various materials according to national or user's requirements. And make a statistical treatment to test data and can print all kinds of test curves and reports.
Ⅱ.Main technical parameter:
Spec.

WEW-300B

WEW-600B

WEW-1000B

Max. test force(KN)

300

600

1000

Effective measuring range(KN)

6-300

12-600

20-1000

Indicating value accuracy

(better than indicating value)

±1%

±1%

±1%

Max. distance between

tensile jaws(mm)

550

600

650

Max. distance between upper

and lower platens(mm)

450

450

450

Size of upper and lower

platens(mm)

Φ160mm

Φ160mm

Φ160mm

Clamping range of

round specimen(mm)

Φ13-26;

Φ26-40

Φ13-26;

Φ26-40

Φ13-26;

Φ26-40

Clamping range of

flat specimen(mm)

0-15

0-15;15-30

0-15;15-30

Max. clamping width

of flat specimen(mm)

70

70

70

Main machine dimension(mm)

740*550*2000

740*550*2100

840*580*2200

Console dimension(mm)

600*500*1200

600*500*1200

600*500*1200