---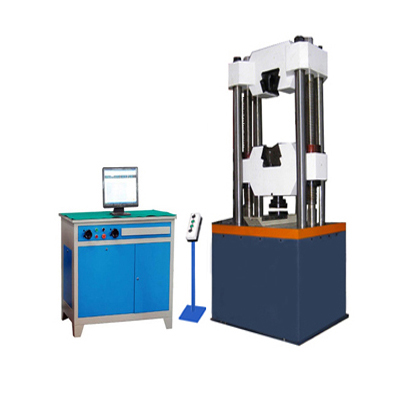 WEW-600G/1000G
Electro-hydraulic (Screen Display) Steel Strand Testing Machine
Ⅰ. Main functions & features:
1.This series of machines adopt manual control to oil inlet and outlet valve, hydraulic loading, electronic measurement, automatically handling data, and mainly used to perform tension, compression, bending tests for metal and nonmetal materials. They completely meet the needs of GB/T16826-2008 Electro-hydraulic Servo Universal Testing Machine and GB/T5224-2003 Pre-stressed Steel Strand for Concrete, and can test tensile strength, non-proportional extension strength, modulus of elasticity, elongation and other mechanical performance. They are ideal equipments for industrial and mining establishments, scientific and research units, colleges, project quality supervision departments etc.
2.Utilizing the transmission mechanism of double screws and middle crossbeam, underneath hydraulic cylinder, open jaw base, easy to intall the specimen, high stability, nice appearance.
3.Through computer the machine can perform such operations as test parameter setting, test data and curve acquisition, handling, analysis, storage and display (data including: elastic modulus E, tensile strength Rm, upper and lower yield point ReH, ReL etc.)
4.If equipped with special Windows software for screen display steel strand testing machine, it can test performance parameters according to steel strand test standard, and make statistically analyzing to test data, and can print all kinds of test curves and test report.
5.If equipped with special extended accessories to ensure that test process and test results can meet the standard requirements.
7.Perfect protection function.
Ⅱ. Main technical parameter:
| | | |
| --- | --- | --- |
| type & spec. | WEW-600G | WEW-1000G |
| Max. load | 600kN | 1000kN |
| Measurement range | With one range, resolution of 0.1kN | With one range, resolution of 0.1kN |
| Load range | 4%-100%FS | 4%-100%FS |
| Relative error of indication value of load | ≤±1% | ≤±1% |
| Deformation precision | ±0.5%FS | ±0.5%FS |
| Tension space | 1000mm | 1000mm |
| Compression space | 600mm | 600mm |
| Clamping mode | automatically clamping | Automatically clamping |
| Clamping diameter of round specimen | 11.11; 12.7; 15.24mm | 11.11; 12.7; 15.24mm |
| Size of upper and lower platen | Φ160mm | Φ160mm |
| Distance between two columns in tension space | 450mm | 450mm |
| Dimension of main machine | 720*580*2350 | 890*660*2500 |
| Net weight | 2600kg | 3500kg |